A year later, Biden visits Zelenskyy to show support against Putin
Published 02/20/2023 10:23 | Edited 2/20/2023 1:01 PM
Ukraine's President Volodymyr Zelenskyy and his wife Olena welcome Biden Photo by Ukrainian Presidential Press Service
Joe Biden left Kiev (Ukraine) for Poland after making a surprise visit to the Ukrainian capital, according to reporters traveling with the President of the United States.
Biden's whirlwind visit marked his first trip to Ukraine since Russia launched its offensive on Feb. 24 last year, nearly a year old.
US President Joe Biden said his Russian counterpart Vladimir Putin was "completely wrong" in his plan for the offensive in Ukraine. Read the full statement below.
"He told us not to be together. He was counting on the inability to keep NATO together and he was counting on us not to be able to bring others to Ukraine's side," Biden told a news conference in Kiev alongside Ukrainian President Volodymyr Zelenskyy.
"He thought he could outlive us. I don't think he's thinking about that right now," she added. "He was just dead wrong. And a year later, the evidence is right here in this room, we're here together."
The President of Ukraine praised Joe Biden's visit to Kiev. "Joseph Biden, welcome to Kiev! His visit is an extremely important sign of support for all Ukrainians," said Volodymyr Zelenskyy in a Telegram post.
The US leader's visit comes at a crucial time in the war, as Biden seeks to keep allies united in their support for Ukraine, with the war intensifying in coming months as both sides prepare for offensives expected in the spring.
Zelenskyy is pressing allies to speed delivery of promised weapons systems and is urging the West to deliver fighter jets to Ukraine — something Biden has so far refused to do.
The US will provide Ukraine with a new military aid package worth $500 million, President Joe Biden said.
Biden said the package would be announced on Tuesday and that Washington would also provide more ammunition for Ukraine-held High Mobility Artillery Rocket Systems (HIMARS).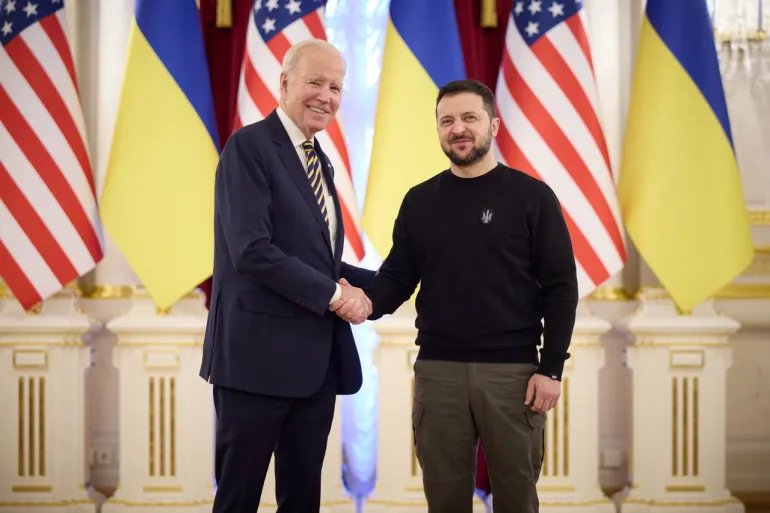 against the west
US President Joe Biden's visit to Kiev reinforces the Kremlin's view that the war in Ukraine is a broader conflict against the West and not just one territory.
The visit comes just 24 hours before the Russian president's important State of the Union address, where he will tell his audience, the people of Russia, that he is fighting a kind of international hegemony.
Putin always insisted he had to go to war because he couldn't sustain the level of hostility he was seeing build up on his NATO and Western alliance border.
A German government spokesman welcomed US President Joe Biden's trip to Ukraine. Steffen Hebestreit told a government press conference that the visit was a "good sign" but declined to comment further.
Putin left
Sergei Markov, a Russian political scientist and former spokesman for President Vladimir Putin, tells Aljazira that Moscow had guaranteed Biden's safety during his trip to the Ukrainian capital.
"Joe Biden came to Kiev only with a personal security guarantee from Vladimir Putin, that there will be no rocket and plane attacks … during his visit," Markov said, although the press was unable to verify the information.
He added that the timing of the trip was significant as it comes before Putin delivers a national address and ahead of the first anniversary of the invasion on Friday.
He argued that Biden had a lot to gain from the visit, in terms of domestic politics.
"Leaders within the Democratic Party [dos EUA] believe he is not physically and mentally capable" of carrying out presidential duties, Markov said, adding that the trip was a "huge victory" for Biden against his political opponents.
official statement
The White House released a statement from US President Joe Biden to mark his visit to Kiev. Here are his remarks in full:
"As the world prepares to mark the one-year anniversary of Russia's brutal invasion of Ukraine, I am in Kiev today to meet with President Zelenskyy and reaffirm our unwavering and unwavering commitment to Ukraine's democracy, sovereignty and territorial integrity.
When Putin launched his invasion nearly a year ago, he thought Ukraine was weak and the West divided. He thought he could outlive us. But he was dead wrong.
Today, in Kiev, I meet with President Zelenskyy and his team for an extended discussion of our support for Ukraine.
I will announce another delivery of critical equipment, including artillery ammunition, anti-armor systems and aerial surveillance radars to help protect the Ukrainian people from aerial bombardment.
And I will share that later this week we will be announcing additional sanctions against those elites and companies that are trying to evade or fill Russia's war machine.
Over the past year, the United States has built a coalition of nations from the Atlantic to the Pacific to help defend Ukraine with unprecedented military, economic, and humanitarian support—and that support will endure.
I also look forward to traveling to Poland to meet President Duda and the leaders of our eastern flank allies, as well as provide comments on how the United States will continue to bring the world together in support of the people of Ukraine and the core values ​​of human rights. and dignity in the UN Charter that unite us across the world."
With information from Aljazira
Source: vermelho.org.br