Time places Lula among the 100 most influential people
Published 14/04/2023 17:58 | Edited 4/17/2023 3:10 PM
Squid | Photo: Ricardo Stuckert
President Luiz Inácio Lula da Silva (PT) joined the list of the 100 most influential people in 2023, promoted by the American magazine Time. The ranking was released on Thursday (13).
The compilation shows Lula in the section dedicated to leaders where he appears alongside figures such as US President Joe Biden, German Prime Minister Olaf Scholz, and Colombian leader Gustavo Petro, among others.
The text dedicated to Lula was signed by Al Gore, former US vice president, businessman and environmentalist. According to him, "Lula promised to strengthen Brazil's position in the world – renewing the country's commitment to democracy, justice and economic equity. But in no other area can it generate a more significant impact than on the climate and biodiversity crises," he says.
Still, according to Gore, "after many years of increasing deforestation and forest fires, the Amazon is transforming from a carbon sink into a net source of emissions. President Lula has pledged to protect the Amazon, and has done so before – reducing deforestation by 72% in his previous term. From combating forest loss to accelerating Brazil's transition to clean energy, President Lula's leadership will be critical in this decisive decade for climate action."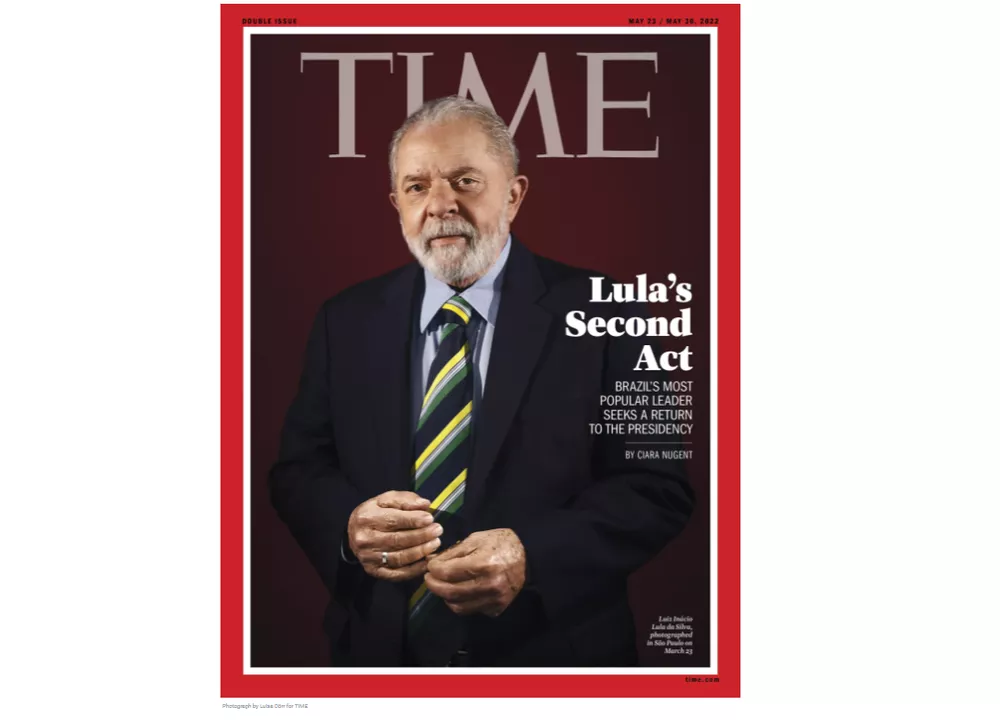 Lula had already appeared on Time's most influential list on two other occasions – in 2004 and in 2010, his first and second presidential terms. For the first time, he was called a "spokesman for the developing world" after being part of a coalition of countries that left a meeting of the World Trade Organization to demand the reduction of agricultural subsidies in the USA and the European Union.
In 2010, the chief executive had his profile written by the documentary filmmaker Michael Moore, who described him as "an authentic son of the Latin American working class" who sought to guide Brazil to the "first world".
On May 4, 2022, Lula gave an interview to the magazine. At the time, he claimed that Ukraine's President Volodymyr Zelensky was as responsible for the war in Europe as Russia's President Vladimir Putin.
"I keep seeing the president of Ukraine on television as if he were celebrating, getting a standing ovation from all the parliaments, you know? This guy is as responsible as Putin," said Lula.
Brazilians on Time
Last year, two Brazilians appeared on the Magazine's list: Sônia Guajajara, leader, indigenous activist and now Minister of Indigenous Peoples in the Lula government, and scientist Tulio de Oliveira, one of those responsible for sequencing the omicron variant of Covid-19.
The list has been compiled since 2004, and 15 Brazilians have already been on it, see below.
2023: Luiz Inácio Lula da Silva, current president of Brazil
2022: Sônia Guajajara, indigenous leader and activist; Tulio de Oliveira, scientist
2021: Luiza Helena Trajano, businesswoman and founder of Magazine Luiza
2020: Felipe Neto, youtuber and digital influencer; Jair Bolsonaro, President of Brazil from 2018 to 2022
2019: Jair Bolsonaro, President of Brazil from 2018 to 2022
2017: Neymar, soccer player
2016: Sérgio Moro, former judge and former Minister of Justice
2015: Jorge Paulo Lemann, businessman; Gabriel Medina, surfer
2013: Joaquim Barbosa, Minister of the Federal Supreme Court (STF) between 2003 and 2014; Alex Atala, chef and entrepreneur
2012: Graça Foster, former president of Petrobras; Eike Batista, businessman; Dilma Rousseff
2011: Dilma Rousseff, President of Brazil from 2011 to 2016
2010: Luiz Inácio Lula da Silva, President of Brazil from 2003 to 2010
2004: Luiz Inácio Lula da Silva, President of Brazil from 2003 to 2010
__
with agency information
Source: vermelho.org.br