Lula suggests UNASUR reform for continental cooperation
Published 5/30/2023 3:09 PM | Edited 5/31/2023 12:35 PM
Brasília (DF), 05/30/2023 – President Luiz Inácio Lula da Silva meets with presidents of South American countries, at the Itamaraty Palace. Photo: Marcelo Camargo/Agência Brasil
Upon receiving eleven South American leaders at the Itamaraty Palace, this Tuesday (30), President Luiz Inácio Lula da Silva reverses the signal that the Bolsonaro government was giving to the rest of the continent. Brazil's ideologized and hostile climate against neighboring countries and their governments becomes pragmatic and cordial. More than that, under Lula's leadership, the continent has emerged from geopolitical ostracism to position itself assertively in the world.
To this end, since January, the Brazilian government has acted in an accelerated manner to resume diplomatic relations, which were lukewarm or frankly hostile with neighbors such as Venezuela. Thus, Brazil's return to continental integration organizations such as Unasur and Celac (Community of Latin American and Caribbean States) was a big step. In August, Brazil will also host the Summit of the Amazon Countries.
In the opening speech of the meeting at Itamaraty, Lula said that regional integration is essential for strengthening the unity of Latin America and the Caribbean. "Our South America is no longer just a geographic reference and has become a political reality."
"As long as we are disunited, we will not make South America a developed continent in all its potential. Integration must be a permanent objective for all of us. We need to leave strong roots for generations to come," she said.
Read also: Lula wants to resume trade balance of US$ 6 billion with Venezuela
Sequelae of Bolsonarism
He criticized the previous government for turning its back on countries that should be more united as a bloc. "Unfortunately, these advances have stalled in recent years. In Brazil, a denialist government attacked the rights of its own population, broke with the principles that govern our foreign policy and closed our doors to historical partners."
"In the region, we let ideologies divide us and interrupt the integration effort. We abandoned dialogue channels and cooperation mechanisms and, with that, we all lost", said Lula.
In his opinion, this posture gains nothing, but brings losses on all sides. "This posture was decisive for the country's detachment from major issues that marked the daily lives of our neighbors. We let ideologies divide us, we stopped integration efforts, we abandoned dialogue channels and cooperation mechanisms and, with that, we all lost."
Read also: Brazilian government announces return to Unasur
shared decisions
The invitation made by Lula was accepted by eleven South American leaders, to discuss agendas around common issues in the areas of health, infrastructure, energy, environment and the fight against organized crime.
Before suggesting measures such as expanding the integration of countries in the region in the energy area, in trade agreements and in the mobility of students and researchers, and reinforcing the desire to establish a local currency for trade in South America, instead of the dollar, the president made it clear that the initiatives were just suggestions and that the issues would still be discussed throughout the day by the South American representatives.
The Brazilian also argued that society's participation should be encouraged to give greater legitimacy to the integration process. "We need flexible coordination mechanisms that provide agility and efficiency in the execution of initiatives. Our decisions will only have legitimacy if taken and implemented democratically", added the president, also defending that the involvement of civil society, unions, businessmen, academics and parliamentarians "will give consistency" to the integration effort. "Either the processes are built from the bottom up, or they are not viable and will be doomed to failure," he said.
Read also: Rebuild Unasur
Lula said he is firmly convinced that it is necessary to revive the commitment to South American integration. "We understand that South American integration is essential for strengthening the unity of Latin America and the Caribbean. A strong, confident and politically organized South America expands the possibilities of asserting, at the international level, a true Latin American and Caribbean identity."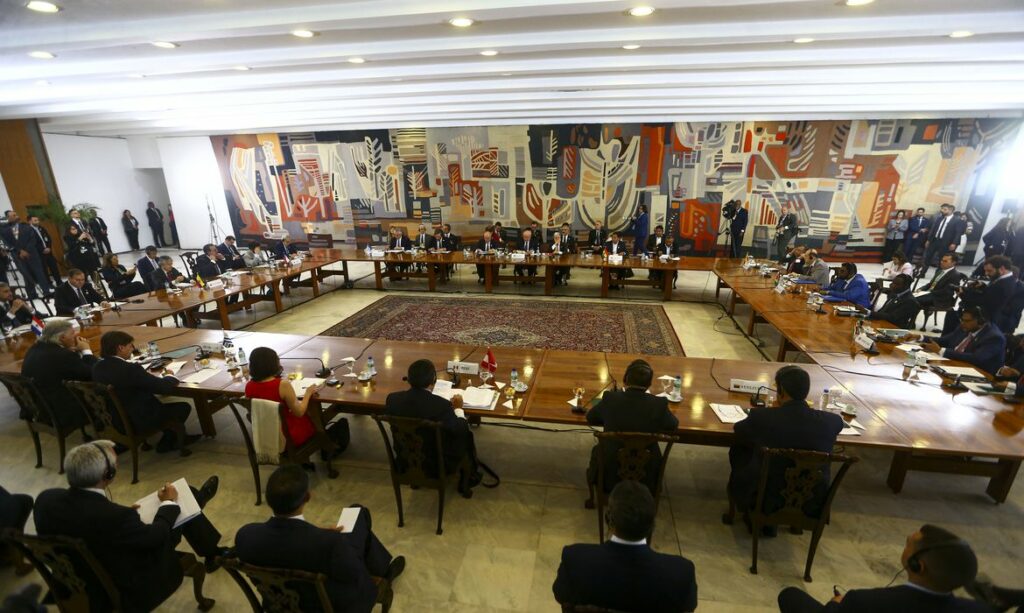 Option for Unasur
"And you don't have to start from scratch. Unasur is a collective asset. Let us remember that it is in effect and seven countries are still full members. It's important to get your build process back on track, but in doing so it's essential to critically assess what didn't work and take those lessons into account."
Despite proposing the strengthening of Unasur, Lula said that there are no preconceived ideas about the institutional design that could be adopted and that this meeting will serve to know everyone's opinion, which may come to be defined in 120 days.
Unasur, created in 2008, in President Lula's second term, has been disintegrating over time, amidst changes of government in several countries, and now brings together only seven of the 12 governments: Venezuela, Bolivia, Guyana, Suriname, Peru , as well as Argentina and Brazil who recently returned to the group.
"For more than ten years, Unasur has allowed us to get to know each other better. We consolidated our ties through broad political dialogue that accommodated differences and allowed us to identify common denominators. We implement cooperation initiatives in areas such as health, infrastructure and defense. This integration also contributed to important commercial gains. We form a robust free trade area, whose figures reached a record value of US$ 124 billion in 2011", he said.
Lula also highlighted the reduction of inequalities and poverty, deforestation, and the group's role as a forum for resolving disputes between countries in the region. "They were formidable achievements for a region that inherited colonialism and was marked by serious forms of violence, gender discrimination and racism. We didn't solve all our problems, but we were willing to face them instead of ignoring them. And we decided to do this by cooperating with each other," he said.
"No country can face today's systemic threats in isolation. It is only by acting together that we will be able to overcome them. Our region has solid assets to face this world in transition", he added, citing new challenges such as the crises generated by the covid-19 pandemic, the urgency of climate issues, the retreat of multilateralism and the protectionist postures in rich countries. , as well as conflicts like the war in Ukraine that affect supply chains.
Agenda multilateral
The presidents Alberto Fernández (Argentina), Luís Arce (Bolivia), Gabriel Boric (Chile), Gustavo Petro (Colombia), Guillermo Lasso (Ecuador), Irfaan Ali (Guyana), Mário Abdo Benítez (Paraguay), Chan Santokhi (Suriname), Luís Lacalle Pou (Uruguay) and Nicolás Maduro (Venezuela).
The current president of Peru, Dina Boluarte, unable to attend, will be represented by the president of the Council of Ministers, Alberto Otárola.
In the morning, the guests were received by Lula and, afterwards, gave speeches. In the afternoon, a more informal conversation is planned, in which each president will be accompanied by the respective chancellor and only one or two advisors.
In the evening, the heads of state and delegations attend a dinner hosted by Lula and first lady Janja da Silva at the Alvorada Palace.
Source: vermelho.org.br