FIFA opens investigation against president of the Spanish federation
Published 08/25/2023 13:27
Luis Rubiales, president of the Spanish football federation, during an event for the champions | Photo: Getty Images
The International Football Federation (FIFA) has opened proceedings against Luis Rubiales, president of the Royal Spanish Football Federation (RFEF), for forcibly kissing player Jenni Hermoso during the Women's World Cup awards ceremony last Sunday ( 20), in Australia.
According to information from Reuters, the organization highlighted that "the events may clearly constitute article 13, paragraphs 1 and 2 of the FIFA Disciplinary Code". These paragraphs refer to violation of rules of conduct and offensive behavior. Rubiales' attitude led to accusations of inappropriate behavior and raised questions about respect for female players in the sport.
Furthermore, Rubiales is the target of a complaint for sexual assault, opened by the Public Ministry of Spain this Wednesday (23), as well as two investigations by the Superior Sports Council. Spain's Women's Professional Football League also called for her resignation from her position.
Understand the case
The Spanish women's football team won the World Cup after beating England 1-0. During the awards ceremony, Rubiales greeted Jenni Hermoso, the team's athlete, on the podium, grabbing her head in his hands and kissing her on the side. strength. The act, which was recorded on video, gained worldwide repercussion with widespread criticism and with the Spanish Minister of Equality classifying it as "sexual violence".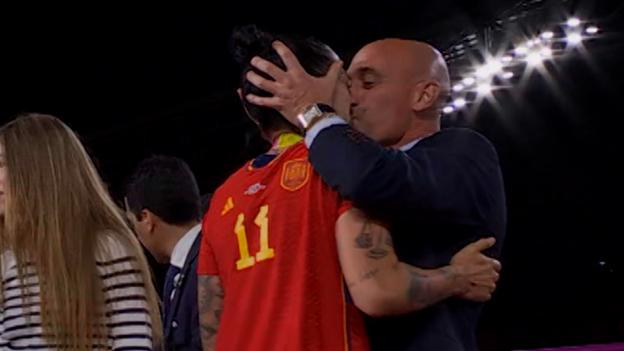 The accusations gained more strength after the player admitted, during a live broadcast, that she didn't like the manager's attitude: "Yeah… I didn't like it. But what could I do there?" said Hermoso.
On Monday (21), Rubiales apologized and said that the gesture was just "affection between friends".
Despite Rubiales' public apology after the incident, pressure from public opinion, authorities and sporting bodies increased. The situation raises questions about the treatment of women in sport and the need for a more respectful and inclusive sporting culture.
__
with agencies
Source: vermelho.org.br